Dr. Rami Horani 
Faculty (Internal Medicine)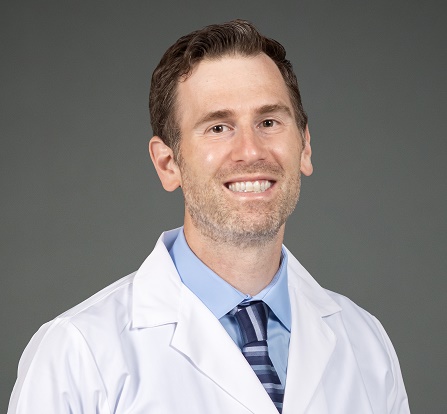 "A chronically underserved population needs a multitude of physicians to take care of them, and I hope the quality care that we provide at MLKCH will bring more physicians into the area with the same mission."
Why were you drawn to working at MLKCH or what makes you want to stay long term at MLKCH?
Teaching has always been a passion of mine. When I found the opening at MLKCH, I was excited at the opportunity to teach residents while serving a population that is too often underserved and overlooked.  The community surrounding MLKCH deserves the best care, and I look forward to helping deliver this.
What are some essential values you would like to pass on to the residents joining MLK?
Listening to the patient is an essential part of the practice of medicine. As we progress in our training, we are bombarded with outside influences that take our time, but I find it essential to sit down eye-to-eye with every patient and listen to their concerns.  Focusing on the issue that's bothering them helps develop trust, and ultimately makes them feel better.
What type of physicians would you hope our residents would become?
Compassionate and caring. I want the residents to grow their comfort and confidence talking to patients and covering every part of their care. Getting a patient to improve and feel better is ultimately the most important part of medicine, but feeling heard and trusting the care team makes a tremendous amount of difference to the patient. I want the patient to say to all my residents, "They listened to me and I trust that they'll take great care of me."
What differentiates MLK from other residency programs?
MLKCH has a unique residency. They treat a chronically underserved population and is designed to give them the best care possible. Seeing a community rise, build resources, and maintain a sense of community is such a reassuring thing to see. MLKCH's residency is a reminder of the practice of old, a practice where the main objective is to give a patient the care and resources to make them better.
Why did you want to be a core faculty member?
I've been in practice nearly 10 years and have always had a desire to teach the next generation of physicians. Filled with experience, I feel that I have a duty to relay my experience to residents. Teaching them to be compassionate, caring, and bright doctors provides a satisfaction I would not achieve out of the teaching setting. Patient will need care throughout time, and I want them to have a wonderful set of physicians taking care of them. My tutelage can hopefully help provide that care.
How will our residency program benefit the community of South Los Angeles?
My hope is that it'll expand the physician base taking care of the community of South Los Angeles. A chronically underserved population needs a multitude of physicians to take care of them, and I hope the quality care that we provide at MLKCH will bring more physicians into the area with the same mission.
What do you do outside of practicing medicine to stay healthy – physically, mentally, and emotionally?
In my off time, I enjoy spending time with my wife and our two children. They are my life! We have two dogs and a cat who keep our home a lively place to be. I am a soccer goalie and love attending my kids' sporting events as well. Binging a good show, reading a book, spending time with friends, and enjoying new foods also help me stay mentally and emotionally balanced. When time allows, our passion is to travel.
Where do you draw your inner strength from to give your best to the patients?
We are all surrounded by sick friends and family as we grow up. My father was a physician as I was growing up, and I learned from him how important it was to take care of our sick. Through his guidance, I became a physician myself and I've continued to have the desire to make patients better physically and emotionally.
Where did you grow up?
My hometown was a small town in western Pennsylvania, Greenville, PA. It was about an hour and a half north of Pittsburgh. The weather is a tad different here.