Dr. Maita Kuvhenguhwa 
Core Faculty & Subspecialty Education Coordinator (Infectious Disease)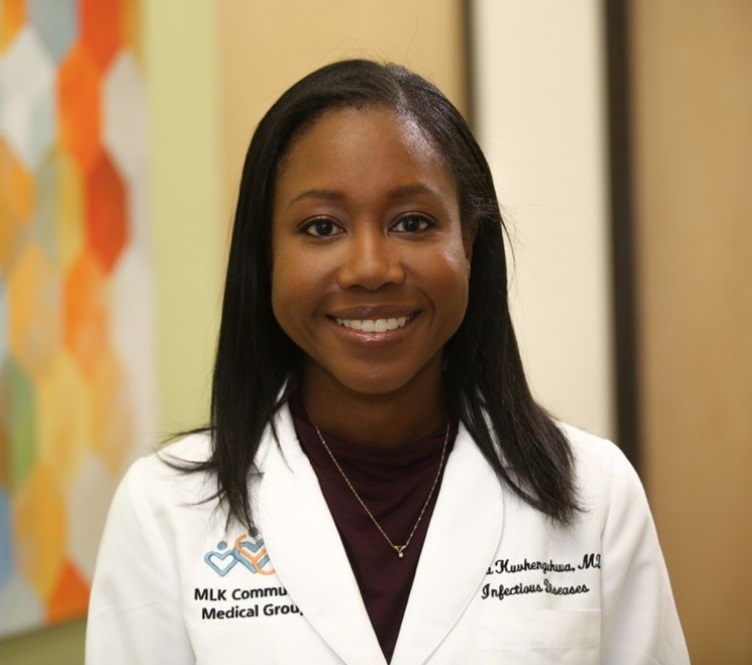 "Treat patients how you would want your family members to be treated. Listening to patients is essential. Try to remain hungry to learn."
Infectious Disease specialist Dr. Maita Kuvhenguhwa grew up watching her physician father serve the vulnerable community of South LA.  His example is one of the reasons she chose to do the same thing after graduating from UCLA and is now committed to producing even more dedicated, mission-driven doctors through the MLKCH Internal Medicine Residency Program.  In this brief interview, she describes the importance of the work and the kind of doctor she hopes to train.
Why were you drawn to working at MLKCH or what makes you want to stay long terms at MLKCH?
I was initially interested in working at MLKCH because my mother is from South LA and I grew up visiting the old King-Drew Hospital with my father, who was a surgeon there. My father always spoke about wanting to return when MLK reopened in the future but unfortunately, he passed away about 2 years before the new MLKCH opened its doors. I came here and stay here because I want to provide high quality care to residents of South LA close to home. Hearing "thank you" from my patients is a feeling that can't be matched by anything else.
What are some essential values you would like to pass on to the residents joining MLK?
Treat patients how you would want your family members to be treated. Listening to patients is essential. Try to remain hungry to learn.
What type of physicians would you hope our residents would become?
I hope that the MLKCH residents become empathetic, caring, and clinically strong physicians.
What differentiates MLK from other residency program?
MLKCH provides a unique experience: We are surrounded by a large inner city population with a wide variety of pathology, similar to a "county" hospital, but in a smaller setting with more opportunities for individual learning and instruction from, and oversight by attendings. A resident here will not be just another face in the crowd. We want to get to know you and learn how we can best support your growth as a physician.
Why did you want to be a core faculty member?
I wanted to be a core faculty member because I love teaching and mentoring and really missed it after I graduated from Fellowship. It is so inspiring to see new generations of physicians and being part of their journey is very rewarding for me.
How will our residency program benefit the community of South Los Angeles?
Projects done by residents may focus on ways to optimize care, which helps improve the care provided to the community at the hospital and clinic. There is also a significant physician shortage in South LA and training capable, qualified physicians is essential to closing this gap. Graduates who choose to practice in the local area are directly contributing to solving this problem.
What do you do outside of practicing medicine, to stay healthy – physically, mentally, emotionally?
In 2021, I started exercising in the mornings before work (mostly virtual cardio and strength classes), which has been a great way to start my day. I am also focusing more on spending time with family, who fortunately live in Southern California.
Where do you draw your inner strength from to give your best to the patients?
I am motivated to give my 100% to my patients because they are trusting me with their lives. I do not take this responsibility lightly. In Infectious Diseases we have quite a few conditions that can be cured, which is always wonderful. But, we have some that are chronic conditions that can be controlled but not cured (like HIV/AIDS): helping patients recover from severe acute illness, rebuild their immune systems, and go on to live healthy lives is so rewarding.
Where did you grow up?
I grew up on the Palos Verdes Peninsula (about 25 minutes southwest of MLKCH, towards the coast).