Due to the ongoing coronavirus pandemic, all in-person maternity tours, groups and classes continue to be on hold until further notice. MLKCH continues to provide maternity services.  
In place of in classroom learning, we are offering a variety of tools for virtual learning and education opportunities. See below for a list of upcoming events. 
National Breastfeeding Month and Black Breastfeeding Week

In honor of National Breastfeeding Month and Black Breastfeeding Week, MLKCH is hosting a number of live, virtual events and sharing our experts' best breastfeeding tips. 
See a list of events below. To participate in these events:
You must set up a Zoom account
Click the event Zoom link (each event is hyperlinked below) on the date and time of the class to be taken to the Zoom event (no registration required)
Tuesday 8/25 10am-10:30am: 
Doula Support and Breastfeeding with Michelle Sanders, LA County Doula Program Coordinator and Khefri Riley, Frontline Doula Co-creator
Wednesday 8/26 11am-12pm: 
Cinnamoms and Breastfeeding with Dr. Tonce Jackson, CinnaMoms co-Founder, PHFE Health Equity Manager
Thursday 8/27 10am-10:30am: 
Breastfeeding Tips: Revive, Restore, Reclaim with Jadah Chatterjee, BS, RN, IBCLC
Friday 8/28 11am-11:30am: 
Breastfeeding Mommy Chat with Lafecia Bruce
Monday 8/31 12pm-12:30pm: 
Breastfeeding Support Systems with Lydia O. Boyd, CLE, Full Spectrum Doula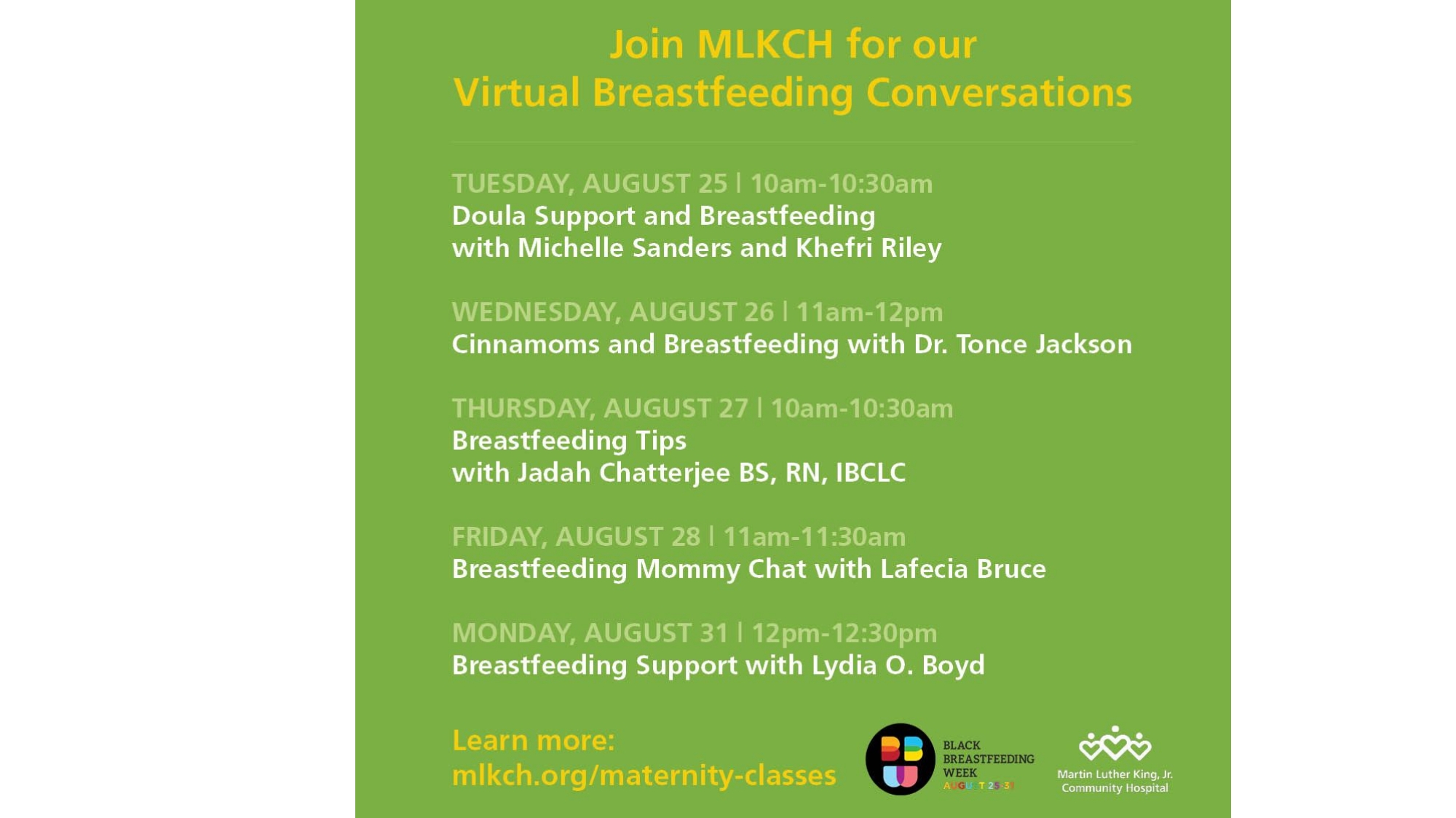 Your new baby makes
you a new mom
Here's what you need to know
Maternity classes
Join us for "Your First 48 Hours: What Happens After You Deliver." This free class explains what to expect during the first days after baby is born and helps you prepare for your stay. We offer an English and a Spanish class. To sign up, use the buttons in the form below to select a class. 
If you already came to a tour you are still welcome to join the class.
Click on the PDF below for more information:
Please arrive to the class 15 minutes early so you have enough time to park and check in. The class starts on time and lasts about one (1) hour. Register using the buttons below. Once you have registered you will receive a confirmation email. If you do not get this email, please check your spam or junk folder. Our confirmation email sometimes gets sent there.
Mommy group
This support group is a place for moms to come together after baby is born. Topics include support for breastfeeding moms, weight and feeding checks for baby, and returning to work or school while breastfeeding.
Join us every Thursday from 10 am – 12 pm. No registration is needed for this informal and free support group.
If you are not able to sign up for the class online or have questions about the class or Mommy Group please email lactation@mlkch.org or call 424-338-8227.
Click on the PDF below for more information: