On this page you can learn the facts about the COVID-19 vaccines, hear from our experts, and download a free informational booklet.  We want our community to be safe and healthy and encourage everyone to get informed.
Videos: Ask our experts
Are the COVID-19 vaccines safe for people of color? Are they effective? Our MLK Community Healthcare doctors answer your questions.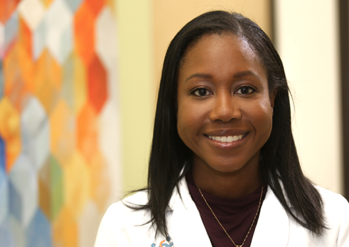 In a series of new short videos, Dr. Maita Kuvhenguhwa, Infectious Disease specialist at MLKCH, answers your questions on the how the COVID-19 vaccines work, who should get them, and why they are safe for people of color.
Are the Covid vaccines safe?
Are the Covid vaccines effective?
Who should get a Covid vaccine?
How do the vaccines work?
What are the side effects?
The Covid vaccines: True or False
Hello Black America! with W. Kamau Bell & Black Health Care Workers
"We've looked at the data, and we're not only comfortable with it, we are excited by it," said MLKCH CEO Dr. Elaine Batchlor at a recent Town Hall. "These are great vaccines."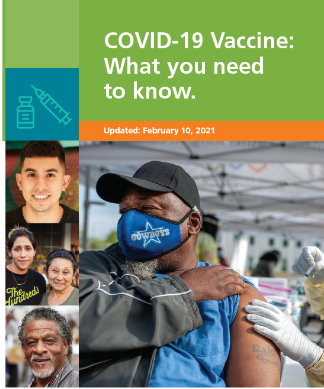 Facts at your fingertips
Download our free, easy-to-read vaccine information booklet to share with family and friends. It's a great way to get the conversation started about how the vaccines work, why they are safe for people of color, and why they matter especially for South LA. Available in both English and Spanish.
COVID-19 Vaccines Information:
MLKCH encourages every resident of South LA to get a COVID vaccine as they become available.  Our clinical doctors, including African American and Latino infectious disease specialists, have reviewed the research on the vaccine.  Here's what they found:
Effectiveness
Clinical trial data show that both vaccines are safe and effective at preventing people from getting sick from COVID-19. In fact, they are 95% effective at preventing illness after two doses. 
Side effects
Some side effects may occur including fever, headache and muscle aches. No significant safety concerns were identified in clinical trials. More than 1,500 MLKCH staff of all races have received the vaccine with no serious side effects reported.
Approved Vaccines
Two vaccines (Pfizer and Moderna) have received Emergency Use Authorization from the Food and Drug Administration (FDA). An Emergency Use Authorization is a process that allows availability and use of medicines and vaccines during public health emergencies such as the COVID-19 pandemic. However, COVID-19 vaccines are held to the same safety standards as all vaccines. 
Research in communities of color
Both vaccines were tested in tens of thousands of adults from diverse backgrounds, including older adults. More than 30% were communities of color. 
How Pfizer and Moderna (mRNA vaccines) work
Two doses of either of the approved vaccines are required for maximum effectiveness, each 20+ days apart. The mRNA in these vaccines instructs our cells to make a harmless piece of the "spike protein" for SARS-CoV-2. After the protein piece is made, cells destroy the mRNA. Cells display the piece of spike protein on their surface and a protective immune response is triggered. Our immune system produces antibodies to protect us from getting infected if the SARS-CoV-2 virus enters our bodies. mRNA vaccines do not contain the live virus that causes COVID-19. The vaccines cannot give anyone COVID-19 nor do they affect or interact with our DNA.
Ongoing safety monitoring
Public health experts across the nation and around the world are tracking and monitoring the safety of the vaccines after they are administered.  That data so far reveals no major safety issue.
True or False?
There are a lot of rumors swirling about the COVID vaccine, but what's true and what's not?  Our MLKCH infectious disease doctors set the record straight:
Does the vaccine contain the live virus?
NO.  The COVID vaccine does not contain the live virus.  You cannot get COVID-19 from the vaccine.
Is it safe if it only took one year to develop?
YES.  COVID-19 is part of a family of "coronaviruses" that scientists have been studying for nearly 20 years.  This research helped speed the development of a safe, effective COVID vaccine.  But rest assured – this vaccine has been years in the making.
Does it alter your DNA?
NO.  The vaccine does not alter your DNA.  While DNA is a long strand that contains all the genetic information we receive from our parents, the COVID vaccine contains a copy of only a small part of that long strand. That tiny "mRNA" strand's sole purpose is to instruct the body's immune system to attack the COVID-19 vaccine. Once those instructions are delivered, the mRNA strand is destroyed by the cell.   
Does it cause Bell's Palsy?
NO EVIDENCE. A few participants in the vaccine trial were diagnosed with the Bell's Palsy, which is a partial paralysis of the face.  However, the incidence level of Bell's palsy among vaccine recipients is about the same as in the general population.  Meaning, you have the same likelihood of developing Bell's palsy after receiving the vaccine as you do before getting the vaccine.
Can the vaccine kill you?
NO.  Although there were a small number of deaths over the past year among those who participated in the vaccine trials, there is no evidence that the cause was COVID.  In fact, the mortality rate was lower in COVID trial participants than in the general population.
The bottom line:  The vaccine is safe, effective and the best way to protect all of us: yourself, your family and your community.